Employ Us as Your Company's Virtual CIO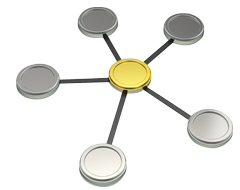 An IT consultant with your company's best interest in mind.
Grove Networks has a process to continuously research the latest hardware and software options on the market that have top performance and support. We select one or two principal vendors for each hardware type meet our criteria and have reasonable cost and full functionality.
With few exceptions, the hardware and software vendors we partner with have remained been rated well by industry experts for many years in a row. As a result of the status that we have achieved with these vendors, our customers receive faster and more qualified service in instances where work must be performed under warranty. This becomes a competitive advantage not only for Grove Networks but for our customers.
For enterprise projects with large corporations, we may select other vendors in coordination with the client, but only if there is some extra functionality or we are matching the client's existing infrastructure.
Feel free to contact us at (305) 448-6126 or simply fill in the form to have one of our professionals contact you.