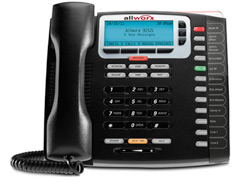 VoIP Communication is Built for Businesses
Voice over Internet Protocol is easy to use, cost-effective, and flexible.
Voice over Internet Protocol (VOIP) used to be known for low prices and bad call quality. Those days are in the past, however, and VOIP has become a mainstay of large and small businesses alike.
Grove Networks has experience in several phone systems, but AllWorx is the system that we have selected to represent because of its focus on bringing quality solutions to small and medium businesses.
As the only AllWorx certified shop in Miami-Dade, Grove Networks is uniquely qualified to install and configure a full system for any size business to maximize the efficiency of communication for your business. Our strong partnerships with other companies in the area that specialize in provisioning business class telecom and internet service from a multitude of providers means that you will also get the right plan at the right price.